Charity football fundraising
Alzheimers and Marrow raising money
posted 12th April 2017 at 9:00am
Alzehimers and Lincoln Marrow held a charity football match to raise money for their respective charities.

The Student-led projects came together to help each other raise money alongside the University of Lincoln Futsal Team and students.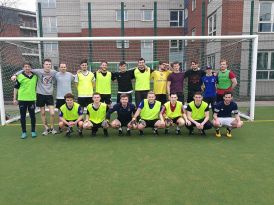 Laura, the project leader for the Alzheimer's student-led project, said: "The football match was a great success, with volunteers raising money, and students and the UoL Futsal team playing the game. The bar crawl was great fun and ran smoothly, with volunteers, friends and some of the futsal team joining in."

In total they raised £157.61 for Anthony Nolan and Alzheimers.
Social
Tags
Pinned Articles