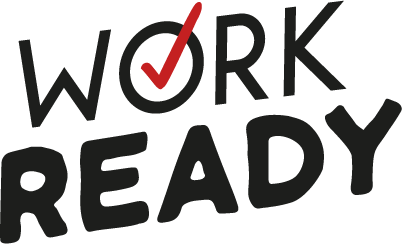 The Students' Union has listened to you, as through our Students' Union survey it was identified that employability was one of the main areas you asked us for help with. This is why we have introduced Work Ready, which can be defined as employability skills that you are able to gain during your time at the University of Lincoln. These can and will improve your employability prospects, especially when looking for graduate jobs in your chosen area.
So, what is Work Ready?
Work Ready has been introduced by the Students' Union and covers all the different ways we can help you develop your employability skills, and know how to use them when applying for jobs.
Wherever you see the Work Ready logo it indicates something you can be involved in that will help you become Work Ready.
How to gain Work Ready skills
Extra-curricular activities – part time work, volunteering, work experience, and participation in a society or sports club

Training sessions

From your course
Work Ready will benefit you
Work Ready skills can, and will, improve your employability prospects when graduating from the University of Lincoln, helping you get the job you want.
You can contact the Work Ready team at: