School of the Month Winners
Find out who won School of the Month!
posted 6th April 2017 at 9:00am
School of the Month Winners!
---
Each month a school can nominate themselves, or be nominated by students, to win School of the Month.

They can be nominated for anything from Feedback to Lecturers. You can find all the previous winners in the article from September just to refresh your memory!
---
Winner for March is:
Pharmacy!
---
The reps have been working hard with the students and the staff members to create a learning agreement that that will benefit both staff and students. The agreement contains a list of actions that have been brought up by both members and added into the agreement that will create a better learning environment for both members. For example, students must not use their phones during class and they must be placed on vibrate, and staff must finish their lecture 10 to the hour to allow students to move to their next lecture etc.
The agreement contains many of the points that were brought up at meetings and SSLCs and it has been a few weeks since the agreement has been introduced and we can already see improvements
---
February:
Health and Social Care
---
As part of his dissertation, Luke Knowles, a third year student representative, for Nursing (adult) is leading on a project predominantly with the programme team (though cross-School colleagues have supported the project) to develop an agreed set of Assessment Feedback standards, with the intention that these are to be used cross-School.

Luke has collected evidence from previous NSS and module survey feedback, and has held focus groups and offered short surveys directed at the programmes' students to gather initial thoughts on the current quality and standards of feedback. Following this, a draft set of standards have been created and Luke has opened up a consultation survey on these draft standards.

The school intends to have these approved to use initially for delivering feedback for Nursing students, but then wishes to implement their use across the whole School – this can be more easily realised following the move to the Sarah Swift Building later this year.
---
January:
History and Heritage
---
Last year students were unhappy with the way the option choices process was done so this year the reps have worked with the staff to improve the way option choices meetings were run. The second year reps helped with the first year's option choices lecture and the third year reps helped with the second year's option choices lecture. The reps attended the lectures and answered questions and gave advice to students, helping them with the option choices process. Some students have commented that this was very helpful.

Congratulations!

Here are the previous winners:
---
December: Sport & Exercise Science
Students aren't sure where to access careers services and aren't often on the side of campus where they can find this information. Reps raised this and now careers are going to run drop ins at the Sport Centre where they can get sport specific advice.
---
November: Chemistry
The Reps have put some great things into place so far this year.
The mentor programme was set up within the school to better settle first years into university and there are already plans in place to keep that going for years to come.
There is also now a newsletter that will be released to students every couple of months to increase student awareness about what happens within the school. It includes a section on new developments as well as a "meet the lecturer" section to introduce new lecturers to students. The same time we release the newsletter, we also release a "Rep and society reports" document that contains information on what each course rep and society has been doing to improve the course and get students involved.
We are also aiming to increase student engagement, by getting feedback from students via a survey on what would get them more involved and engaged in lectures. That information will then be fed onto lecturers, to see if they can incorporate things into their lectures that students would find more engaging.
We are also looking into getting laptops in JBL to make it more student/work friendly as there is a lot of couch space there to spend time working on assignments or just chillin. As well as looking into making prescription lab goggles an option for students in labs.
All Reps have been awesome and have brought issues to the school rep's attention early so that we work together to get plans in place that will resolve those issues.
I'm very proud of my school and all we have accomplished so far this year!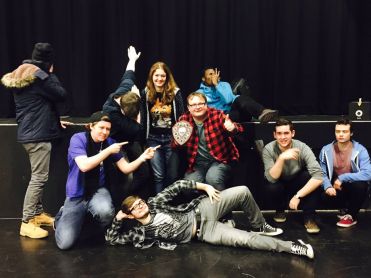 ---
October: Computer Science
There is a good sense of team between all of the Reps, and they work well with staff in the school to achieve things for students. They have developed good ways of raining issues and having the resolved in a timely manner.