Student Athlete Wins Silver!
---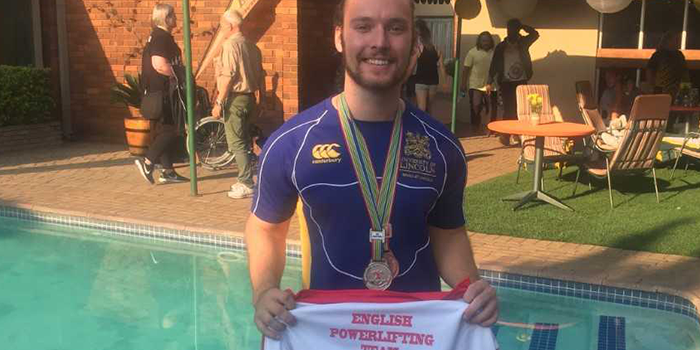 Sports Scholarship Student brings home a Silver Medal in International Powerlifting Championships!
James Leaper, Sports Scholarship Athlete at the University of Lincoln, travelled to Potchefstroom in South Africa for the Commonwealth Bench Press Championships, where he was able to get his hands on a Silver medal!
With a passion for Powerlifting and Kayaking, James has been given ongoing support from the University and Dr Tom Gee (Senior Lecturer and Programme Leader for the School of Sport and Exercise Science) to compete at a national level.
After receiving support to train for the English Bench Press Championship, James qualified for the Commonwealth Bench Press Championships, where he competed in the under 66kg bodyweight class.
Following this amazing experience and fantastic outcome, James said:
"I would like to say a huge thank you to the University of Lincoln for the continued support provided to me, especially Dr Tom Gee for helping me to make my dream become a reality.

"The University gave me a tremendous amount of help in training to help me win the English Bench Press Championship.

"With their continued support throughout the summer, I competed at the strongest, both mentally and physically, that I have ever been.

"To anyone out there wanting to compete at the highest levels, keep pushing and fighting, and you too can get there."
The University's Sports Scholarship programme helps to support up to 10 undergraduate and postgraduate student athletes in their pursuit of excellence. For more information on the programme, click here.