Don't Walk Out on our Walk-in
---
*UPDATE 28/09/17*

It is with great disappointment that I need to inform you that on Wednesday 27 September a decision was confirmed by the Lincolnshire West CCG to close the walk-in centre providing alternative primary care services are enhanced. The closure will occur after the upcoming winter period although an exact date for closure has yet to be confirmed.
As your Students' Union President, together with your elected student leaders I have actively engaged in the consultation process, we have expressed concerns and views on your behalf and delivered a petition that successfully gained close to 3,000 signatures. I would like to take this opportunity to thank you for your support.
I am confident that we are not alone in our disappointment, 94% of all those consulted were against the closure, and I firmly believe that the closure will be a huge loss not only for students but for the wider community.
Please be assured that I will continue to represent your concerns, and to seek assurances from the Lincolnshire West CCG that the alternative primary care services are capable of meeting demand. I will also be working with the University Health Centre to continue to improve your access to health care services here on campus.
If you have any concerns please do contact me at president@lincolnsu.com
---
*UPDATE: 18/08/17*
Invited to join radio presenter, Scott Dalton, your Students' Union President, Kudzai Muzangaza, talks LIVE on BBC Radio Lincolnshire to represent the voice of students and discuss the final days of the CCG's Walk-in Centre consultation period.
(Recording available for 30 days from publication)

---
*UPDATE: 10/08/17*
See below an open letter to NHS Lincolnshire West Clinical Commissioning Group from your Students' Union President.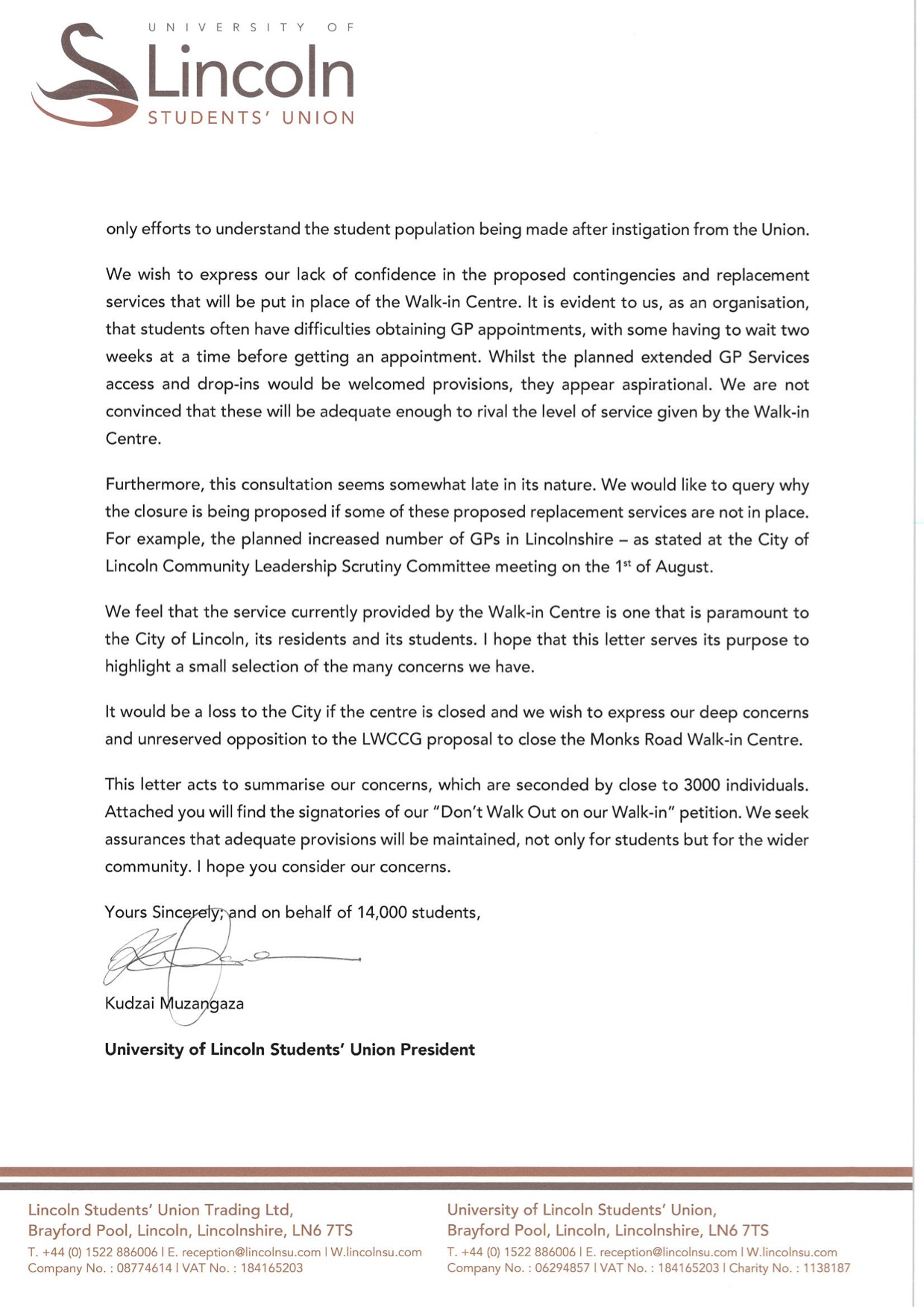 ---
*UPDATE: 02/08/17*
Your Students' Union President, Kudzai Muzangaza, attended a meeting earlier this week to voice student concerns regarding the proposed closure.
The council's Community Leadership Scrutiny Committee discussed the plans at a public meeting on the evening of Tuesday, August 1 at the Alive Church, Newland. It was here that Kudzai gave a 5 minute presentation in which he spoke about the need for students to be taken into account in the decision, how the Walk-in Centre is a great resource for international students who may otherwise have an unclear understanding of the NHS and provisions in British healthcare services, and queried the lack of research presented into alternatives beyond the use of the Centre.
The overall conclusion from the committee states that the Centre should stay open until robust provisions are in place.
Read a full breakdown of the event HERE
---

Students' Union opposes closure of Lincoln's Walk-in Centre.
Lincolnshire West Clinical Commissioning Group have begun proceedings to close the county's only Walk-in Centre, and we at the University of Lincoln Students' Union are disappointed in this decision.
The Walk-in Centre provides a valuable, much needed service to University of Lincoln students, staying open until late into the night to deal with medical situations and take the pressure off the already overloaded A&E department. Students who can sometimes find themselves in worrisome situations are reassured by a facility that can cater for their needs beyond the working hours of GPs.
In order to raise our voice and ensure that our views are heard, we've put together a PETITION and would like to invite any and all students to take just a minute of time out of their day to click and join us.
Click here to